In May, co-founders Teri Parkhouse and Peggy Scholley traveled to Durham, NC to learn more about the good work Coalition Unchain Dogs does for their people and their pets.  Here is what Peggy had to say when recapping their visit:
"On day one, Teri and I ride along as Lori Hensley and Amanda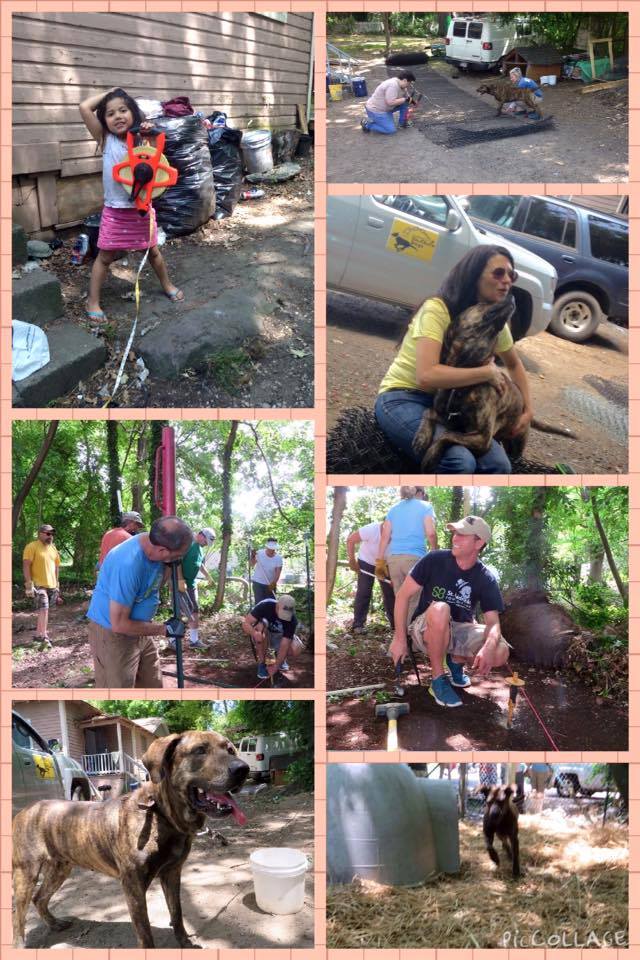 Arrington cruise one of the poorest neighborhoods in Durham. When residents see the Coalition truck, they smile and wave. At a corner, a young man is excited to see the "dog people" because he needs his dog spayed. We meet Pretty Girl — a sweet "neighborhood" dog who sleeps in a crate on one neighbor's porch, is fed by another neighbor, and hangs out during the day with a third. Lori and Amanda check on dogs they've built fences for, give parvo shots to puppies, pass out food, and persuade a woman to get her two dogs fixed — and that's just a few of our stops.
Day two, we gear up in leather gloves and sturdy clothes to help build a dog fence. Coalition volunteers, sharing jokes of past builds, show us how to put up chain link and install anti-digging wire mesh. Volunteers take breaks to pet Precious, the big friendly brindle who will soon be off a cable. Amanda sits on the back steps and grooms the family's little fluffy dog as the kids watch. But the highlight — watching Precious get untethered and moved into her spacious digs complete with a carpet of straw and a new doghouse.
What else did we learn? That treating people with courtesy and respect is easy and builds trust; that making assumptions and judgments about pet owners gets you nowhere; and that the majority of people, even when they have next to nothing, love their dogs and want to do right by them."
We share this story to give our audience an idea of the type of work Gwendolyn's Wish intends to bring to the greater Williamsburg community. Please join us by making a donation today.  The smallest gift is doubled, thanks to a generous donor.  Join us and #doubledownforbungles.  To read and share his story CLICK HERE –> bit.ly/bunglesknee