Gwendolyn's Wish, Inc. is a nonprofit founded in late October 2014 by three women who met while volunteering at Heritage Humane Society in Williamsburg, Virginia. Drawn together by a shared passion for providing enrichment and training activities to shelter dogs, we decided to take our commitment to helping pets out into our community. By offering support to pet owners in need, our goal is to keep pets and caring owners together.
Cynthia Rogers – President      For 30 years, Cindy moved around the country for her husband's career, living in California, Ohio, Missouri and New Jersey, just to name a few. When her husband retired, they settled in Williamsburg and Cindy joined the Heritage Humane Society Auxiliary in 2001. Around the same time she began walking shelter dogs and discovered a passion for working with individual dogs so they could successfully transition from life in a kennel to a new home. Cindy lives with her husband Bob, their dogs Shadow and Toots and two cats named Rosebud and Nicky.
Teresa Parkhouse – Vice President        Teri has a degree in psychology from Un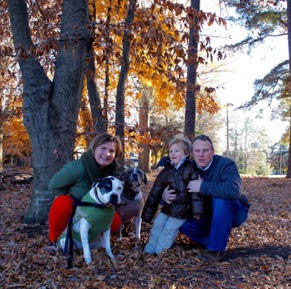 iversity of Redlands and, after attending Officer Candidate School, earned an officer's commission in the US Navy in 2000. In 2004, she left the Navy and moved to Williamsburg with her husband. From 2008 to 2014 she volunteered at Heritage Humane Society as a dog walker, dog foster, rescue partner liaison, dog behavior consultant, and off-site event coordinator. Teri found special satisfaction in working one-on-one with shelter dogs to modify behavior issues and to provide fun field trips outside the shelter.  She, husband Jason, and son Lawson currently share their home with a foster dog named Mina.
Peggy Scholley – Treasurer/Secretary        Peggy earned a BA from William & Mary and an MA from George Washington University. In 1998, her husband's career brought them to Williamsburg. In 2003 she began as a volunteer at Heritage Humane Society and discovered a passion for helping shelter animals. Peggy was recruited to the HHS Board of Directors in 2004 and served for six years. After her time on the board ended, she spent four more years walking dogs, fostering kittens and cats, introducing dogs to potential adopters, and working offsite adoption events. She and husband Luke Beckerdite share their home with two rescued dogs — Maya and Lucky — and Eli the cat.